https://bit.ly/noeulkorean-ntc
Immerse Yourself in the Enchanting World of Korean Language and Culture at Noeul Campus with JOINUS KOREA!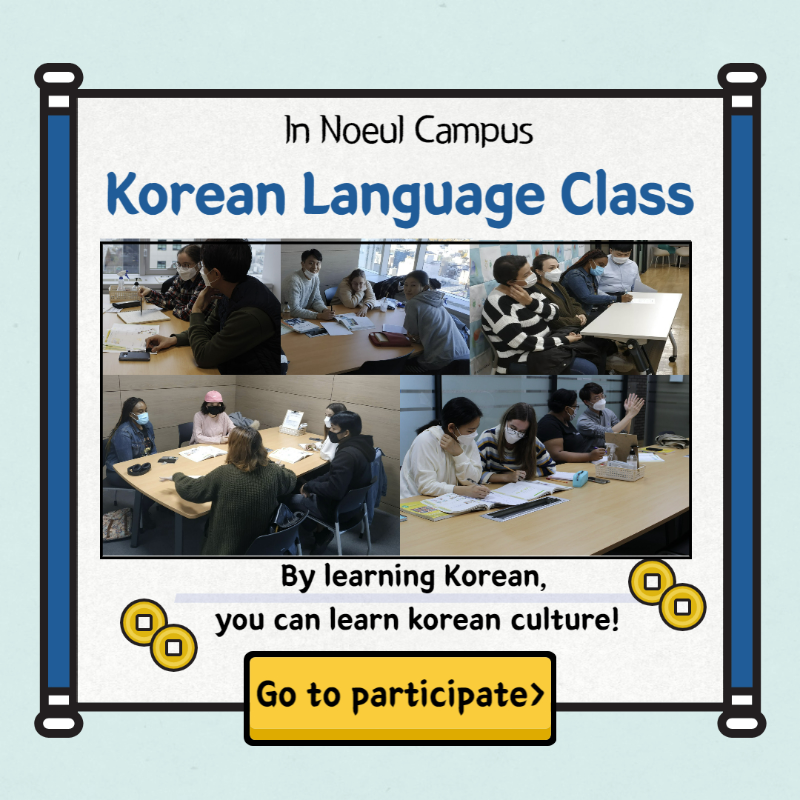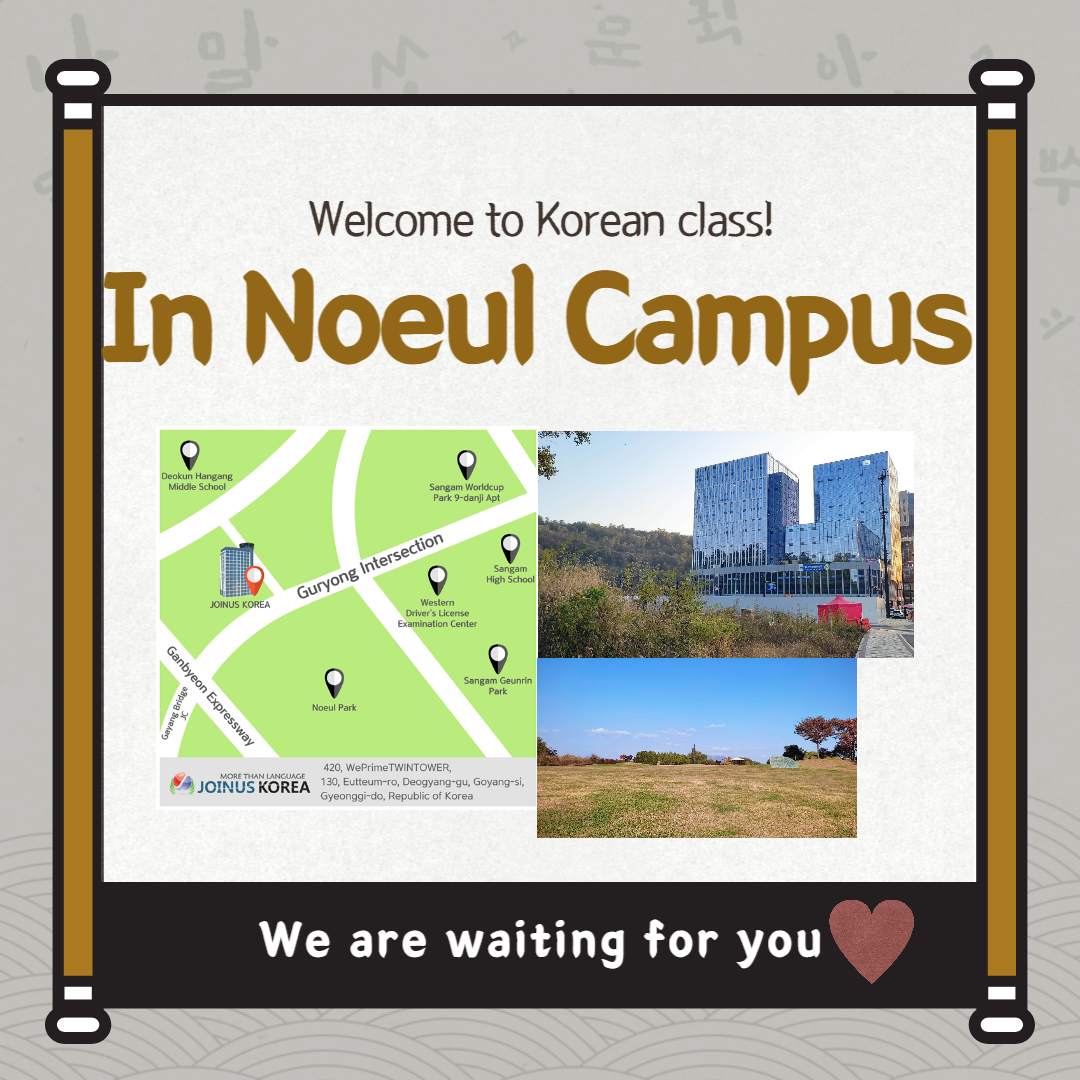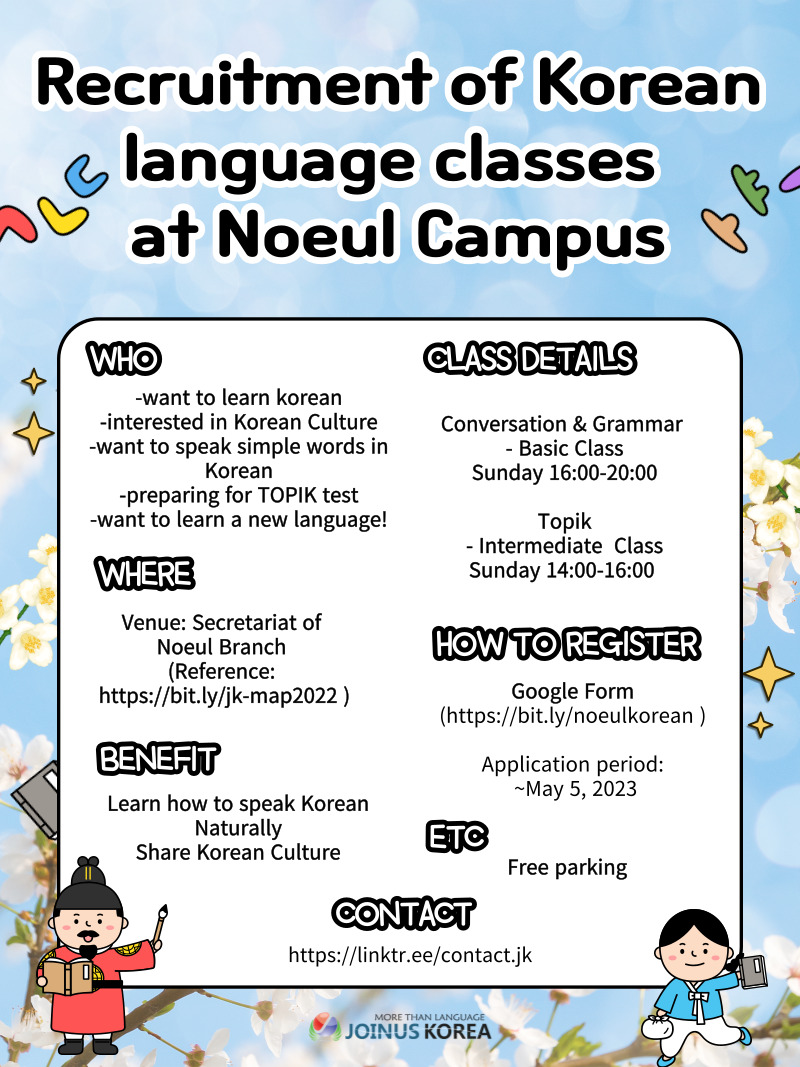 Hello, JOINUS KOREA opens new Korean classes!
We will invite you to Korean Classes in Noeul Campus!
In Korean Classes, we will wait for those:
- who want to learn korean
- who are interested in Korean Culture
- who want to speak simple words in Korean
- who are preparing for TOPIK test
- who want to learn a new language!
By learning Korean in Noeul Campus' Korean classes, learn more about Korea in detail!
In this class, we provide an environment in which learners can enjoy learning through quizzes. In addition, we have time to share Korean culture together using class time.
In JOINUS KOREA korean classes Noeul Campus, you can learn Korean comprehensively by choosing TOPIK (Korean language certificate for foreigners) and conversation classes according to your korean level.
► Class Details
1) TOPIK
- level: Intermediate ~
- Class day: Sunday 14:00-16:00 (2 hours)
- Class content: TOPIK test
- textbook: 에듀윌 한국어능력시험 한입토픽 TOPIK Ⅱ
2) Conversation & Grammar
- level: beginner ~ elementary
- Class day: Sunday 16:00-18:00 (2 hours)
- Class content: simple conversation and Korean grammar
- textbook: SNU 1-A
- The class period: May 7th ~ August 27th (4 months)
- tuition (Donation) : 150,000 100,000 KRM (100 USD) for about 4 months 🤑
* The donation will be spent preciously to manage and improve our program continuously. ☘
* Note: the first month (May) proceeds without tuition (donation).
if you wish to proceed after one month(May), you can pay at that time.
It will be a good opportunity to listen to and practice speaking Korean and experience Korean culture through face-to-face classes.
- Class room Location: https://bit.ly/jk-map2022 (경기도 고양시 덕양구 으뜸로 130 #420 )
- Parking fee : free (up to 3 hrs)
►Registration : https://bit.ly/noeulkorean
Application period: ~May 5, 2023
We'll be waiting for you at Noeul Campus.
함께해주셔서 감사합니다! 🙆‍♀️❣️
(added Apr. 30)

hello,
Thank you for applying for this Noeul Korean Class program.

Because more people than expected applied for a limited space, we would like to receive a reservation fee to prevent no-shows.

This is because we want to give opportunities only to those who can actually come to the class.
(Full refund will be given after confirmation of attendance.)
(Refunds will also be given to those who are unable to participate due to overcapacity.)

- Deposit: 30,000 won
* Please let us know once making the deposit.

Thank you for joining us! 🙆‍♀️❣️

-------------------

안녕하세요,
노을한국어교실 프로그램에 신청해 주셔서 감사합니다.

한정된 공간에 예상보다 많은 분들이 신청해주셔서 노쇼 방지를 위해 예약금을 받고자 합니다.

실제로 수업에 오실 수 있는 분들에게만 기회를 드리고자 하기 때문입니다.
(참석 확인 후 전액 환불해 드립니다.)
인원 초과로 참여가 불가한 분께도 환불해드립니다.

- 보증금 : 30,000원
* 입금 후 알려주세요.

함께해주셔서 감사합니다! 🙆‍♀️❣️
"다국어&다문화 지식공유/교류 커뮤니티" 운영 IT NGO

MULTILINGUAL KNOWLEDGE EXCHANGE & SHARING COMMUNITY



JOINUS KOREA is the biggest NGO in Korea which has 20 linguistic spheres members called 'Language Culture Knowledge Exchange Activists without Borders' (JOKOER). It is a purely non-profit private diplomacy organization that operates a Multilingual & Multicultural knowledge hub community that interacts with people all around the world through the knowledge.